: include(/home/aroundcarson/old.aroundcarson.com/inc/header.html): failed to open stream: No such file or directory in
: include(): Failed opening '/home/aroundcarson/old.aroundcarson.com/inc/header.html' for inclusion (include_path='.:') in
| | |
| --- | --- |
| ← Previous Photo | Next Photo → |
Violin Virtuoso Andrew Sords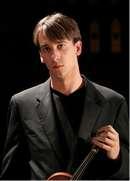 Violin virtuoso Andrew Sords and pianist Rachel Ing will perform in a house recital on Friday, Oct. 19, 7:30 p.m. in Jacks Valley.
Andrew Sords also will perform on Sunday, Oct. 21, 4:00 p.m. with the Carson City Symphony at the Carson City Community Center.
Tickets to both events are available at the Brewery Arts Center, online at activitytickets.comor can be reserved by calling 775-883-4154.
Actions
⇓ Download This Photo
To download this photo, choose a size below, then right-click and select "Save As".
⇓ Embed This Photo
To embed this photo in a blog or web page, choose a size below, then copy and paste the HTML or wiki code from the box.
HTML code
Wiki markup
Date Uploaded: October 5, 2007